Term 5
Yellow class team have been busy preparing our classroom and planning lots of exciting things for your children to participate in this term.
Curriculum overview
Our theme this term is 'On the Farm'
We will be learning lots of vocabulary such as the names of different animals, the colours you might see and how to look after animals on the farm. We are even going to meet some of them!
Please open the attachment at the bottom of the page to view our Term 5 overview.
---
Supported learning at home
Literacy
Our literacy focus book this term is called 'Oh Dear!'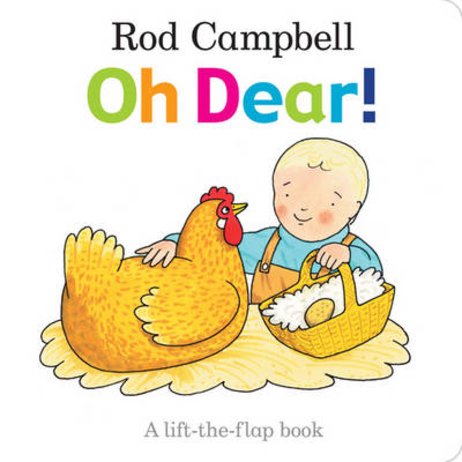 Click the link to view, listen to the 'Oh Dear' story
Maths
Our Maths focus is Number, Addition and Subtraction, Positional Language and Measurement.
Click here to listen to a farm maths song.
Communication and Language
Can you try to sign farm animal makaton signs?
Click the link below to watch the Singing Hands farm makaton signs
Makaton Topic - FARM ANIMALS - Singing Hands - YouTube
---
Timetable
Please open the attachment at the bottom of the page to view the Term 5 Timetable larger.
---
Key Dates and other information
Weekly Swimming sessions will take place on a Monday morning for Yellow Class pupils to participate in.
Please can you ensure that your child has a Swimming kit in school. This will be a swimming costume/ swim shorts, a towel and double nappy system (if required- see below for details). Please can these items be sent in a bag with your child's name on each item. We will keep the Swimming kits in school, wash weekly and send them home at the end of every Term.
If your child is not yet toilet trained the double nappy system will be required to try. A double system has 2 steps:
Step 1 - Nappy wrap (reusable swim nappy) Or disposable swim nappy
Step 2 – Incontinence swimwear pants/shorts that seal around the waist and thighs.
Here is some information about incontinence swimwear pants/shorts that seal around the waist and thighs
Splash About have created a range of incontinence swimwear for older children and adults, providing the same benefits as the award-winning Happy Nappy in discreet, grown-up styles. Splash Shorts, Jammers and Splash Costumes can help everyone enjoy swimming – please click this link for more information